Pakistani Activist Malala Yousaf Zai graduated from Oxford University.
Malala Yousaf Zai A Pakistani Activist completes its graduation degree from the United Kingdom's prestigious Oxford University. She completed her degree in Philosophy, Politics, and Economics.
Malala shares her happiness at achieving a graduate degree. She also shares her celebration cake.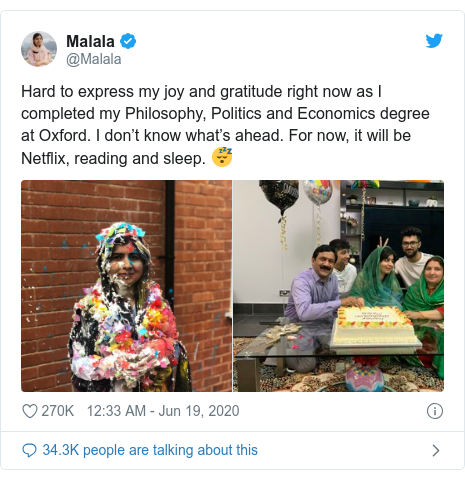 She wrote,
"It's hard to express my joy and gratitude right now as I completed my Philosophy, Politics and Economics degree at Oxford."
Achievements
Mala Yousaf Zai is born on 12 July 1997. She is a Female teacher. She teaches female of Khyber Pakhtun Khawa. But the Taliban attacked her. She injured in that attack and some other girls also injured. She is born in Mangora, KPk, Pakistan.
After this attack, She was awarded the Noble Prize Award due to his services for Humanity and her role is Quaid-e-Azam and Benazir Bhutto.
She hit with a bullet. Her condition was critical in the Rawalpindi Institute of cardiology. Then She transferred to Queen Elizbeth Hospital, Uk.
During stay in Birmingham, She started Malala Fund, a non-profit organization with the Shiza Shahid.
She got Pakistan Youth Peace Award in 2012 and then in 2014, Malala got Nobile Prize Award.
She also the author of I AM MALALA, This was the best seller book of this year. Zai also nominated for OSCAR. She received Honourary Canadian Citizenship.
Many Celebrates congratulated Malala on this Achievement.
Many celebrate Like Priyanka Chopra, juggun Kazmi, Samina Peerzada, Kamila Shamsie, Mindy Kaling and many other stars congratulate her after she shared her achievement.
Bollywood Actress Priyanka Chopra twitted as, "Congratulate Malala! That's amazing."
Pakistani Activist Muniba Mazari excited about her achievement and said, "@malala yay! Congratulations my superstar!"
While Kamila Shamsie congratulates her and advises her to take some snacks during Netflix, reading, and sleep. Because She wrote in her tweet that use is enjoying Netflix, reading and sleep, and nothing else. She Tweeted as, "Mubarak!To you and your Parents@ZiauddinY (Enjoy Netflix, reading, and sleep. Maybe get some eating in there too).
Pakistan Prime Minister's Ex-wife, Jemima Goldsmith said in her tweet, "Congratulations, you wonderful, inspiring women."
She First told about her graduation on June 8 at #Classof2020 during Youtube Ceremony in honor of Graduates. Youtube wish her by these words, "Congratulations on your graduation, Malala! We're honored to share your words and celebrate you as a member of the unstoppable Class of 2020."
We also wish her On her graduation and Wish Best of Luck for her Future.